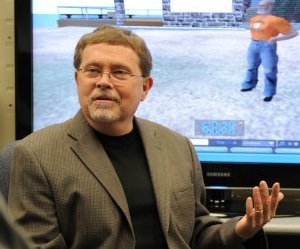 Dr. Larry Hodges is the Chief Operating Officer of Recovr, Inc. and Emeritus Professor in the School of Computing at Clemson University. Although retired from Clemson, he stays involved with the School as a part-time instructor for courses in Machine Learning and Discrete Structures. During his career he has served as the C. Tycho Howle Endowed Chair and Director of the Clemson School of Computing, Chair of the Computer Science Department at the University of North Carolina at Charlotte, and was a founding faculty member of both the College of Computing and the GVU Center at Georgia Tech. He is also a co-founder of two companies: Virtually Better, LLC in Atlanta, and Recovr, Inc. in Clemson.
Dr. Hodges completed his PhD and MS at North Carolina State University, the Master of Arts in Religion at Lancaster Theological Seminary, and the BA with a double major in mathematics and physics at Elon University. His research interests include Virtual Reality, 3D User Interface Design and Evaluation, Interactive Training Systems and Virtual Humans. His contributions have been recognized by a GVU Impact Award from Georgia Tech in 2007, the IEEE Virtual Reality Career Award in 2006, the Essam El-Kwae Faculty-Student Research Award from the College of Computing and Informatics at UNC Charlotte in 2008 and the
Clemson University Research, Scholarship, and Artistic Achievement Award
in 2018.
In 2017 he was inducted into the Computer Science Alumni Hall of Fame at North Carolina State University (

audio

)

. In 2018 Elon University honored him with a College of Arts and Sciences

Distinguished Alumni Award

.