Welcome to the Thies Research Group
The Thies Research Group focuses on chemical and biomolecular separations where thermodynamics and phase equilibria play a key role. The fractionation and molecular characterization of poorly defined systems with significant potential applications in energy and materials are of particular interest. An example of such a system is lignin. After cellulose, lignin is the 2nd most abundant organic compound on earth; furthermore, it is one of the few biopolymers with aromaticity. Nevertheless, lignin is typically considered to be a by-product at best and a waste stream at worst. Thus, the recovery, fractionation, and purification of lignin is a focus of current research. Applications for lignin ranging from clean-burning biofuels to energy-storage polymers to carbon-fiber precursors are being investigated.
Lignin as a Biofuel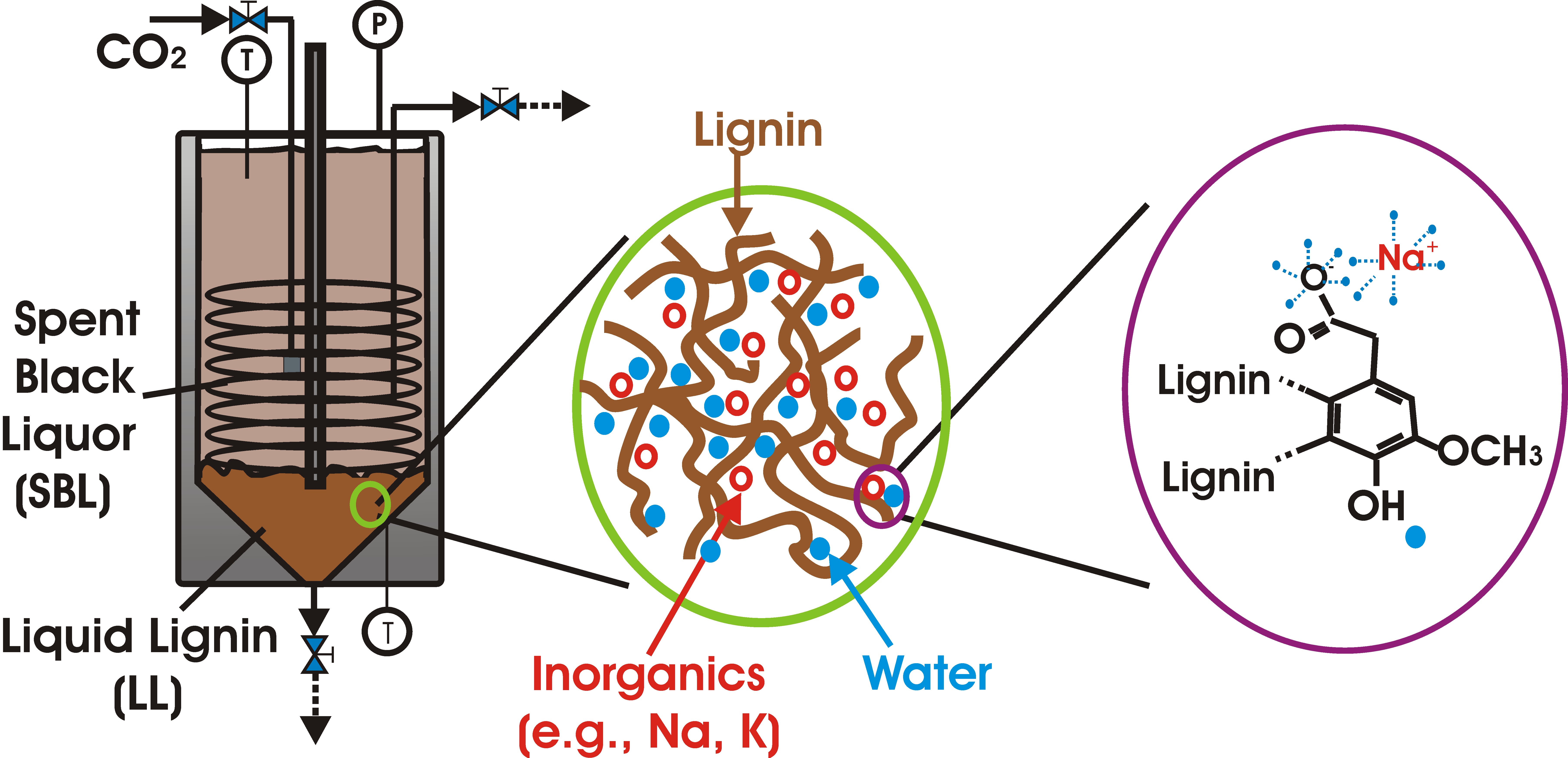 A "liquid" lignin has been discovered that can be used to produce a clean-burning biofuel from a key industrial by-product stream. Greenhouse-gas reductions of millions of tons of carbon dioxide/yr are now possible.
Ultrapure Lignin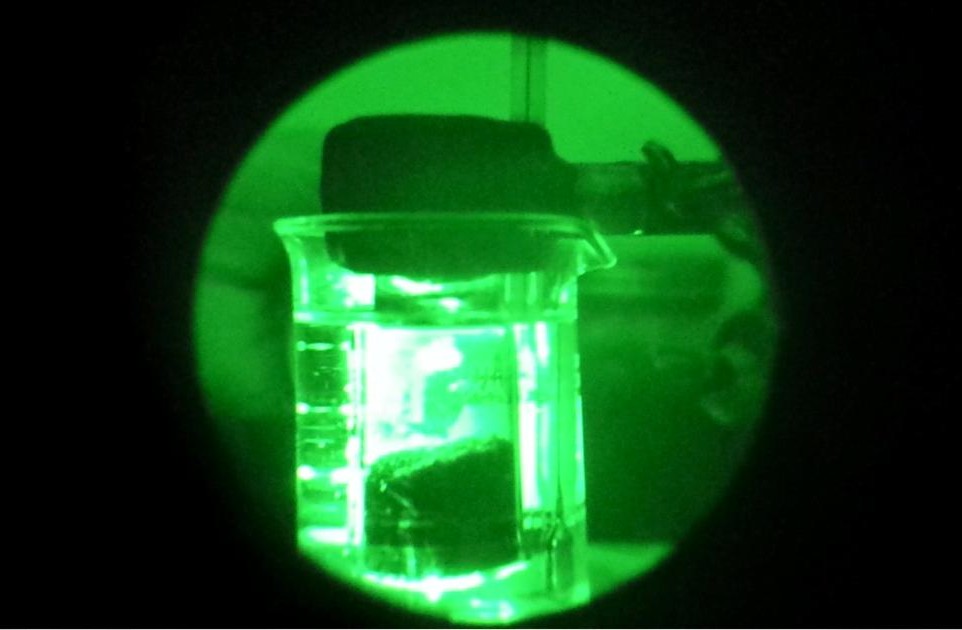 Separation processes are being investigated that can convert the lignin recovered from a dirty by-product stream into an ultrapure product containing less than 100 ppm metals. Such a clean lignin has potential applications as a renewable biopolymer.
Liquid-Crystalline Carbon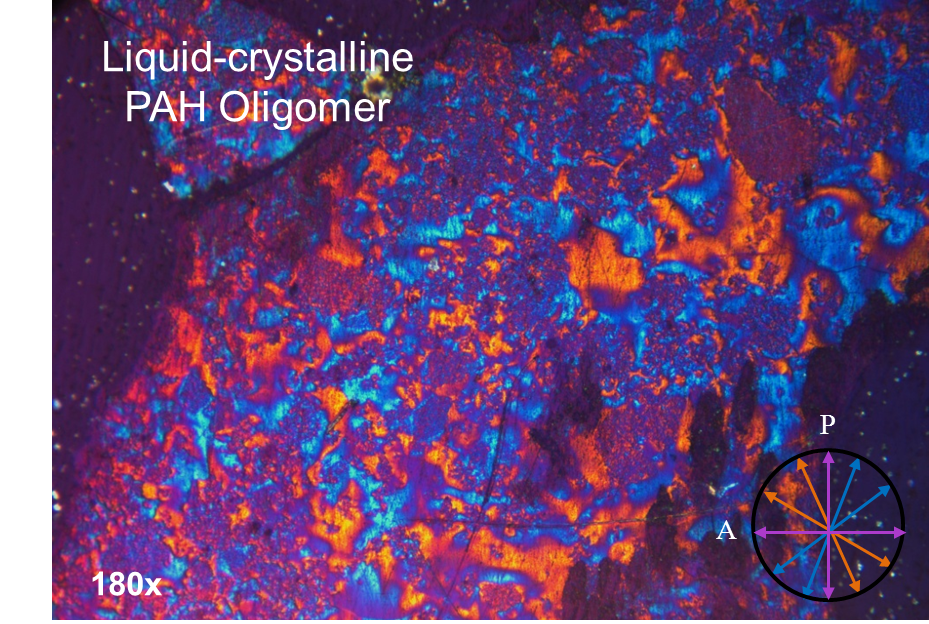 The fractionation of carbonaceous oligomers via supercritical extraction has been used to isolate the lowest mol wt liquid-crystalline PAH oligomer ever observed. Advanced-materials applications are anticipated.
For more information on Research Areas,
Click Here
Thies Group News
The Thies group attended 2018 AIChE Annual Meeting in Pittsburgh, PA. Dr. Thies, Cabell, Junhuan and Graham each gave an oral presentation, and Sallye presented an award-winning poster on their work!
>
Sallye Gathmann received the Donald F. & Mildred Topp Othmer Scholarship Awards from AIChE. Congrats, Sallye!
>
Junhuan Ding, Carter Fitzgerald and Dr. Thies presented their work at the 40th Symposium on Biotechnology for Fuels and Chemicals in Clearwater Beach, FL.
>
Graham Tindall received the Undergraduate Summer Research Grant through NASA South Carolina Space Grant Consortium. Congrats, Graham!
>
Graham Tindall and Dr. Thies presented a poster and an oral presentation at the 2018 American Coatings Conference in Indianapolis, IN.
>
Cabell Lamie's paper entitled "Kinetics of the catalytic polymerization of pyrene with AlCl3" is published in the journal Carbon.
>
Welcome Spencer Temples and Sallye Gathmann to the Thies research group as our undergraduate research assistants!
>
Junhuan Ding's and Adam Klett's paper entitled "Liquid-liquid equilibrium compositions and global phase behavior for the lignin-acetic acid-water system at 70 and 95 °C" is published in the journal Fluid Phase Equilibria.
>
Welcome Carter Fitzgerald to the Thies research group as our newest graduate student!
>
The Thies Group presented a total of 4 talks at the Annual Meeting of the AIChE in Minneapolis, MN.
>
Welcome Matt Holmes to the research group as an undergraduate research assistant!
>
Adam Klett's paper entitled "Benign Fractionation of Lignin with CO2-Expanded Solvents of Acetic Acid + Water" is now published in the journal Industrial & Engineering Chemistry Research.
>
Welcome James Martzin to the research group as an undergraduate research assistant!
>
Welcome Anne Mason to the research group as an undergraduate research assistant!
>
Congratulations to our newest graduate, Adam Klett, who graduated with his Doctor of Philosophy degree in Chemical Engineering. Congratulations Adam!
>
Congratulations to our newest graduates, Jordan Gamble and Tu Nguyen, who graduated with their Bachelor of Science degrees in Chemical Engineering!
>
Welcome Jed Gist to the research group as an undergraduate research assistant!
>
Welcome Mikhala Cooper to the research group as an undergraduate research assistant!
>
Adam, Cabell, and Junhuan presented thier work at the Annual Meeting of the AIChE in San Francisco, CA. Between the three of them, they gave 4 oral presentations on their work.
>
Dr. Thies's and Adam's book chapter entitled "Recovery of Low-Ash and Ultrapure Lignins from Alkaline Liquor By-Product Streams" is now published in Production of Biofuels and Chemicals from Lignin.
>
Adam Klett's and Mark Payne's paper entitled "Continuous-Flow Process for the Purification and Fractionation of Alkali and Organosolv Lignins" is now published in the journal ACS Sustainable Chemistry & Engineering.
>
Welcome Candace Ballentine to the research group as an undergraduate research assistant!
>
The Thies group took their annual paddling trip down Section III of the National Wild and Scenic Chattooga River.
>
Welcome Graham Tindall to the research group as an undergraduate research assistant!
>
Congratulations to Adam Klett for winning 3rd Place at the Clemson Gradaute School Annual Three-Minute Thesis Competition!
>
Congratulations to Adam Klett for winning the 1st Place Presentation Award at the 2016 Chemical and Biomolecular Engineering Graduate Research Symposium!
>
Congratulations to Cabell for passing his oral qualifying exam! He is now officially a PhD Candidate!
>
Departmental celebration of his election as an AIChE Fellow. Congratulations, Dr. Thies!
>
Adam Klett's paper entitled "Identifying thermal phase transitions of lignin-solvent mixtures using electrochemical impedance spectroscopy " is now published in the journal Green Chemistry.
>
Adam presented his work at the Annual Meeting of the AIChE in Salt Lake City, UT. He gave 2 oral presentations on the electrochemical method he developed for measuring phase behavior of lignin systems, and on the development of the ALPHA process.
>
Welcome Junhuan Ding to the Thies research group as our newest graduate student!
>
Welcome Rebecca Demarco and Tu Nguyen to the research group as undergraduate research assistants!
>
Adam Klett's paper entitled "Recovering ultraclean lignins of controlled molecular weight from Kraft black-liquor lignins" is now published in the journal Chemical Communications.
>
Adam Klett was selected for a 2015 AIChE Separations Division Graduate Student Research Award. Congratulations!
>
Congratulations to Cabell for passing his written qualifying exam!
>
The Thies group took their annual paddling trip down Section III of the National Wild and Scenic Chattooga River. Dr. Thies and Cabell had to eat their slices of pizza upside down.
>
Congratulations to our newest graduates, Jesse Richards and Meredith Manning, who graduated with their Bachelor of Science degrees in Chemical Engineering!
>
Julian Velez's paper entitled "Temperature Effects on the Molecular Properties of Liquid Lignin Recovered from Kraft Black Liquor" is now published in the journal ACS Sustainable Engineering.
>
Congratulations Adam for winning the Student's Choice Presentation Award at the 2015 Chemical and Biomolecular Engineering Graduate Research Symposium!
>
Congratulations to our newest graduate, Julian Vélez, who graduated with his Doctor of Philosophy degree in Chemical Engineering. Congratulations Julian!
>
Julian and Adam presented their work at the Annual Meeting of the AIChE in Atlanta, Ga. They gave a total of 3 oral presentations on recovering lignin from black liquor streams, and the purification and fractionation of this recovered lignin.
>
We welcome Cabell Lamie to the Thies Research Group!
>
Congratulations to Adam and Julian for winning 1st place for best poster in the Sustainable Energy Category at the EPA Environmental Youth Symposium in Atlanta, Ga.
>
Congratulations to Mark Payne for winning the AIChE Othmer Topp $1,000 Scholarship Award! Only 15 ChemEs in the country received this award.
>
Dr. Thies, Adam Klett, and Daniel High School Environmental Science teacher Chuck Conrad are guests on SCETV's Radio Magazine Show "Your Day", where they discuss their NSF-funded research under the theme "Biofuels, biorenewable polymers, research and education".
>
The Thies group took their annual paddling trip down Section III of the National Wild and Scenic Chattooga River. Dr. Thies showed everyone why he doesn't recommend trying to run the rapid known as Bull Sluice.
>
We welcome Payton Chappell to the Thies research group!
>
Congratulations to our newest gradaute, Brian Klett!!! Brian earned his Bachelor of Science degree and will be starting graduate school at the University of Tennessee in Knoxsville in the fall!
>
Dr. Thies, Adam, and Julian presented a poster titled "Recovering Liquid-Lignin Fractions with Well-Defined Molecular Properties from Kraft Black Liquors" at the Symposium on Biotechnology for Fuel and Chemicals in Clearwater Beach, Florida.
>
Julian, Adam, and Dr. Thies visited Daniel High School to present to an Environmental Science class the benefits of using lignin as a renewable fuel source to replace coal.
>
Congratulations to Julian Vélez for winning 3rd place at the Clemson University First Annual 3-Minute Thesis Competition!!
>
Congratulations to Julian Vélez for winning the Best Presentation Award at the 2014 Graduate Research Symposium!!
>
David Esguerra's paper entitled "Molecular structures of the constituents of pyrene pitches" is now published in the journal Fuel.
>
We welcome Brent McJunkin, Meredith Manning, and Mark Payne to the Thies Group!
>
Dr. Thies presented an invited lecture at Kasetsart University, Bangkok, Thailand, entitled "Recovering liquid lignins from Kraft black liquors: fractionation and characterization"
>
Congratulations to our newest graduate, David Esguerra, who will be starting a position at Intel Corporation as a D1C Bulk Chemical Delivery Engineer!
>
Dr. Thies served as a panel expert and presented an invited lecture at the workshop "Supercritical Fluids and Energy" at the University of Campinas, Brazil.
>
Julian Vélez presented his work entitled "SFE technology for poorly defined oligomeric mixtures" at the workshop "Supercritical Fluids and Energy" at the University of Campinas, Brazil.
>
Julian's paper entitled "Solvated liquid-lignin fractions from a Kraft black liquor" is now published in Bioresource Technology
>
Adam Klett presented a poster at the AIChE conference in San Francisco on the recovery of a liquid-lignin phase from Kraft paper mill black liquor.
>
Dr. Thies and Julian, in collaboration with Michael Lake and John Blackburn of Liquid Lignin Company, filed U.S. Non-Provisional Patent Application No. 14/066,985 entitled "pH-induced Fractionation Process for Recovery of Lignin".
>
Julian Vélez presented his work on the pH-based fractionation of lignin from black liquor at the 15th IUPAC International Symposium on MacroMolecular Complexes in Greenville, SC.
>
Adam Klett passed his oral comprehensive exam! He is now officially a PhD Candidate!
>