Faculty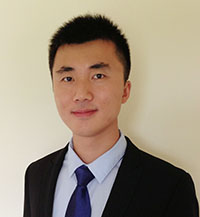 Dr. Qiushi Chen
Associate Professor of Civil Engineering
Clemson University
Office: 320 Lowry Hall
Phone: (864) 656-3330
Fax: (864) 656-2670
Email: qiushi.AT.clemson.edu
Profile on ResearchGate
Education
B.S., Civil Engineering, Shanghai Jiaotong University, China
M.S., Theoretical and Applied Mechanics (Geomechanics), Northwestern University
Ph.D., Theoretical and Applied Mechanics (Geomechanics), Northwestern University. Thesis: Multiscale Modeling of Failure in Granular Media. [PDF]
---
Research Expertise
Computational geomechanics
Discrete element modeling
Random field models
Liquefaction assessment and mapping
Multi-scale modeling in granular media
Multi-physics modeling
Professional Experience
Clemson University, Associate Professor of Civil Engineering
Sandia National Laboratories, Postdoc Appointee in Mechanics of Materials
California Institute of Technology, Visiting Scholar in Applied Mechanics
Northwestern University, Research and Teaching Assistant in Civil Engineering
Professional Registration and Memberships
Secretary and member, Computational Geotechnics Technical Committee, ASCE
Member, Soil Properties and Modeling Technical Committee, ASCE
Associate Member, American Society of Civil Engineers (ASCE)
Member, Engineering Mechanics Institute (EMI)
Member, Geo-Institute
Member, Earthquake Engineering Research Institute (EERI)
Engineering in Training
---
Current Team Members
Yuan Guo (Postdoc)
Weiwei Zhan (Ph.D. student)
Yuting Cheng (Ph.D. student)
Zakia Tasnim (Ph.D. student)
Feiyang Chen (Ph.D. student)
---
Former members
Zhengshou Lai (Ph.D. 2018)
Mengfen Shen (Ph.D. 2018)
Wenxin Liu (Ph.D. 2018)
Chaofeng Wang (Ph.D. 2017)
Andrew Brownlow (Ph.D. 2017)
Guangji Liu (M.S. 2016)
Naisha McDaniel (B.S. 2018)
---
Prospective Students
Current opening: N/A.
Prospective MS and PhD students: admission policy and requirements for PhD and MS students can be found at Clemson's graduate school website (http://grad.clemson.edu). If you are interested in research in geotechnical engineering, geomechanics and computational mechanics, please contact Dr. Chen.
Undergradate students: Clemson University offers research experience to undergraduate students through its campus-wide Creative Inquiry (CI) program. [ Link to current CI projects].