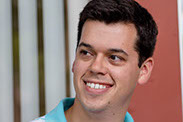 Dr. Judson Ryckman
Dr. Ryckman joined Clemson faculty as an Assistant Professor in the Holcombe Department of Electrical and Computer Engineering in the Fall of 2016. Prior to joining Clemson, Dr. Ryckman worked at Intel Corporation as a Research Scientist in Intel's Silicon Photonics division, where he lead passives component development and 300 mm wafer-scale integration.
Dr. Ryckman's research interests lie in the development and application of photonic platforms to solve problems in areas of sensing, biomedicine, food-safety, and computing/communications. Some specific topics of study include: integrated optical devices and passives, visible/IR wavelength integrated optics and sensors, photonic nanocavities, novel nano-fabrication techniques, spatial-mode and diffraction phenomena, ultra-high surface area nano-materials, and opto-electronic devices for trace-level biosensing.
Curriculum Vitae (here) -- Last updated December 2017.