Clemson Home > Home > Research


The Wireless Communication Systems and Networks Program at Clemson University was created in 1993 in the Department of Electrical and Computer Engineering to provide cross-disciplinary research and education in the field of wireless communication systems and networks.Research topics in communication systems include advanced modulation, error-control coding, code-division multiple access (CDMA) and other multiple-access methods, and spread-spectrum communications. Research in wireless networks is focused on the design and evaluation of distributed protocols, such as routing protocols, adaptive transmission protocols, and protocols for wireless distribution of multimedia information. Applications include cellular communications, mobile computing, packet radio networks, and personal communication systems. The program is directed by Professor Michael B. Pursley.

In 1999 the Department of Defense announced a new program known as the Multidisciplinary University Research Initiative (MURI) on Adaptive Protocols for Mobile WIreless Networks. Several faculty members from Clemson's Wireless Communications Program participated in the proposal competition which included more than sixty other universities. As a result of that competition, the Clemson team received one of the two MURI grants awarded by the Department of Defense for research in wireless communication networks. In the MURI project, Clemson's Wireless Communication Systems and Networks Program is joined by ITT Industries in multidisciplinary research devoted to new modulation schemes, coding techniques, receiver processing methods, network protocols, and antenna designs for wireless, mobile, distributed, multimedia communication networks. The five-year MURI project, which was initiated in May, 2000, is administered by the Office of Navel Research.

In addition to the MURI grant, the Wireless Communications Program has been awarded several other research grants from the Army Research Office, ITT Industries, the Air Force Office of Scientific Research, Schlumberger, the Office of Naval Research, and the National Science Foundation. Clemson is also teamed with industry in many research and development projects devoted to new mobile radio systems and networks for both commercial and military applications. Additional funds for graduate student research assistantships and fellowships are provided by private contributors and by the National Science Foundation.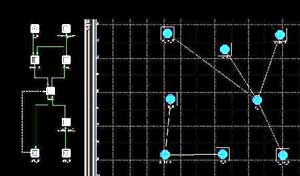 Simulation of packet radio network using OPNET