SCESTA 2006 BUSINESS MEETING REPORT

SCESTA held its annual business meeting at SC2 in Myrtle Beach on Thursday, November 2, 2006 . Thirteen people attended the meeting in Convention Center Room 102 to elect new officers, honor the 2006 Outstanding Earth Science Teacher Award winner, and discuss the future of the organization. Alan Weekes was elected President; Peter Walton was elected Vice-President; Donna Petty was re-elected as Newsletter Editor with a job description change - there will no longer be an official newsletter. Donna will collect news and submit items to Amie Spitzer (our website manager) who will place these items on the SCESTA website. Rebecca Pugh was elected Secretary/Treasurer to replace Leslie Sanford after her many, many years of service to the organization. All officers were elected for 2-year terms.
Leslie Sanford's 'treasurer's report' and resignation letter was read at the meeting and Becky Pugh collected dues money and the list of new sign-ups from the SCESTA booth. The SCESTA treasury currently contains $979.14. Plans for another Share-A-Thon at SC2 2007 were discussed and approved. Officers' responsibilities were clarified. The Vice-President is in charge of setting up and running the Share-A-Thon; the President is responsible for being the liaison to the SC2 management, insuring that SCESTA has a booth in the exhibit area and that the business meeting and Share-A-Thon are scheduled appropriately.
Ms. Jennise Knight was presented with the OEST plaque from NAGT as well as checks from the Mining Association of South Carolina and the Carolinas Section of the Society of Mining Engineers for winning the 2006 Outstanding Earth Science Teacher competition. Ms. Knight began teaching at Rawlinson Road Middle Sch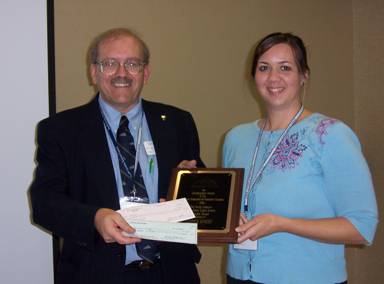 ool in Rock Hill , South Carolina six year ago. She entered in to the teaching profession through the PACE program in South Carolina since she had a B.S. and M.S. in Biology. Since teaching at Rawlinson Road , Ms. Knight has received her National Boards in Teaching. She is currently working on another Masters at the University of South Carolina in Educational Administration and Supervision.
In the six years that Ms. Knight has taught at Rawlinson Road , she has become involved in many different activities such as cheerleading coach, serving on various committees, and planning the eighth grade trip to Orlando . Ms. Knight was recognized by the staff at Rawlinson Road for her dedication and hard work by being named Teacher of the Year for the 2004 -2005 school year. She is enthusiastic about her subject matter and is always looking for new and engaging work for her students. Ms. Knight has worked with SC MAPS/SC Studies for the last two years. She uses maps in her classroom to make the content more relevant for her students. She also has access to a class set of laptops and uses the Internet to access content available to students online. This past summer, she attended an eight day training offered by the school district in how to use technology in her classroom. From this training, she has learned how to use an Interactive White Board with her students. The students have truly enjoyed using this kind of technology in her classroom. Ms. Knight remains current in her content by attending workshops and conferences, taking classes, and by working closely with her colleagues. Ms. Knight has a great reputation with parents and students. They recognize that she will do anything to help them be successful in the classroom.
The meeting concluded with the usual drawing for door prizes.