The Institute of Transportation Engineers (ITE) is a professional society of more than 13,000 transportation engineers, planners, and other professionals in over 70 countries. The Clemson Student Chapter is housed in the Department of Civil Engineering.
The goal of the Clemson Student Chapter is to introduce students to the transportation profession and supplement their classroom and laboratory experiences. Some of the chapter activities include participating in field trips to various transportation engineering projects, community service projects, technical projects and fund raisers. Chapter members are eligible to apply for scholarships sponsored by International ITE as well as the South Carolina Section and receive information on potential job opportunities in the transportation profession. All Clemson students are eligible to join the Clemson Student Chapter.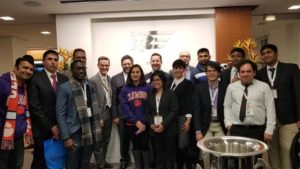 Advisor: Dr. Wayne A. Sarasua, Ph.D., P.E.
Co-Advisor: Dr.Jennifer H. Ogle
President: Thomas Shirley
VP: Nassim Benaissa
Treasurer: Saurabh Basnet
Secretary: Emmanuel Adjei
Communications Chair: Jaiyun Shen
Website manager: Ross Holt
The Clemson ITE Chapter has repeatedly won regional and national recognition for its professional activity and involvement. Awards include:
2018 Best Student Chapter Award – Southern District
2018 Traffic Bowl Runner-Up Award – Southern District
2017 Best Student Chapter Runner-Up Award – Southern District
2016 Best Student Chapter Runner-Up Award – Southern District
2015 Best Student Chapter Award – Southern District
2014 Best Student Chapter Award – Southern District
2013 Best Student Chapter Award – Southern District
2012 Best Student Chapter Award – Southern District
2011 Best Student Chapter Runner-Up Award – Southern District
2012 Traffic Bowl Runner-Up Award – Southern District
2010 Best Student Chapter Award – Southern District
2009 Best Student Chapter Runner-Up Award – Southern District
2009 Traffic Bowl Winners – Southern District
2008 Best Student Chapter Award – Southern District
2008 Traffic Bowl Winners – Southern District
2007 Best Student Chapter Award – Southern District
2007 Traffic Bowl Winners – Southern District
2006 International ITE's Outstanding Student Chapter Award
2006 Best Student Chapter Award – Southern District
2006 Traffic Bowl Winners – Southern District
2005 Best Student Chapter Award – Southern District
Best Student Chapter Award – Southern District
2003 Best Student Chapter Award – Southern District
2001 Best Student Chapter Award – Southern District
2000 Best Student Chapter Award – Southern District
1999 Best Student Chapter Runner-Up Award – Southern District
All students interested in transportation are encouraged to join this dynamic and vibrant group.
Chapter Activities 2013
61th SDITE Meeting – Charlotte, NC – April 7 -10, 2013
Speakers at Student Chapter Meetings 2012 – 2013
Weekly ITE Chapter meetings provided students with the opportunity to learn more about the transportation profession through active and open discussion with industry experts. In the fall, numerous professionals spoke about their involvement in transportation projects as well as their views on professional development. The following are speakers from our chapter meetings over the past year:
Dan Hoffman- Clemson Parking Services-September 13, 2012
Kat Moreland- Clemson Parking Services- September 20, 2012
Julie Newman- Michelin Career Center- September 27, 2012
Jim Oswald- PinPoint Geotech-October 4, 2012
Hesha Gamble- Greenville County Traffic Engineer- October 11, 2012
Rick Reiff- Stantec- October 18, 2012
Gaye Sprague- Sprague & Sprague Consulting- Greenville City Council- October 25, 2012
Marco Friend- Jacobs Engineering- November 1, 2012
Jae Mattox- SCDOT Project Manager- November 15, 2012
Jan Comfort- Clemson Reference Librarian- November 29, 2012
Tanya DeOliveira- Clemson Planning and Design- March 8, 2013
TRB – Washington, D.C. – January 13-17, 2013
In January, 14 of our members and 2 faculty advisors attended the Transportation Research Board 92nd Annual Meeting in Washington D.C. While in the nation's capital, our students took advantage of the opportunity to hear numerous presentations, network with transportation professionals, and tour the historic city. One of the highlights of our trip was the ITE student reception where we heard from Victor Mendez, the Federal Highway Administrator.
Chapter Activities 2012
Professional Development Activities
60th SDITE Meeting – Lexington, Kentucky – April 15-18, 2012
The Clemson ITE student chapter attended the joint annual ITE Meeting held in Lexington, Kentucky from April 15 -18. This meeting which is typically a Southern District ITE (SDITE) annual meeting was jointly organized by the SDITE and the Great Lakes District this year. Over the course of the conference, there were many sessions and meetings that were centered on the theme of the conference -The Changing Face of Transportation.
The Clemson student chapter represented South Carolina in one of the highlights of the conference: The 2012 William H. Temple Scholarship Challenge, popularly known as the "Traffic Bowl". This competition is a "Jeopardy!" style team quiz-bowl in which students from the Southern District compete. The Clemson student chapter was valiantly and proudly represented by Kevin Baumann, Jennifer Johnson and Lee Tupper. The Chapter defeated Kentucky and Tennessee to advance to the finals. In the finals, Clemson competed against University of Virginia and North Carolina State University in a fierce battle and came in second to North Carolina State University. We recognize the tireless efforts of our traffic bowl team and their indefatigable coach, Katerina Moreland. Kudos!
In addition to the technical sessions, there were several social gatherings that fostered networking for both the engineering professional and graduate students. The most festive of these social gatherings was the ADB Social at the famous Red Mile race track which featured a live blue-grass band amidst the odd foot-race down the race track. The chapter was awarded the Runner-up student chapter award at the annual awards banquet held on the final day of the conference. Overall, the joint annual meeting was a huge success and the Clemson student chapter is looking forward to and anticipating a large contingent at this year's annual meeting in Charlotte, North Carolina.
ASCE Carolina's Conference – Clemson University – March 30-31, 2012
Clemson University was the proud host of this year's ASCE Carolina's Conference. The Carolina's Conference is an annual competition involving a number of Universities in South Carolina, North Carolina and Georgia Tech. The universities competed in various Civil Engineering challenges spanning across all the concentrations of the field. Some of the major events were the steel bridge, concrete canoe, transportation and surveying competitions. With Clemson hosting the competition the Clemson ITE Chapter was charged with organizing the transportation and surveying competitions. Drs. Ogle and Sarasua – our chapter faculty advisors – designed and judged the transportation engineering design competition with the assistance of Kevin Baumann – our chapter vice-president at the time. Dr. Sarasua also designed and judged the surveying competition with Kweku Brown, another one of our chapter members. Clemson's ASCE chapter placed first or second in eight of the twelve competitions and earned the first place trophy as the overall winner of the competition. The Clemson concrete canoe and steel bridge teams went on to represent the Carolinas at the nation competitions.
Technical Projects
Auburn University Study – Parking Utilization for Apartments near College Campuses – April 9-10, 2012
In April, the Clemson ITE chapter assisted Auburn University graduate student, Liz Hammer, with her master's thesis. Her goal was to provide more accurate parking utilization counts for apartments situated near college campuses, particularly in "college towns" such as Clemson and Auburn. Nine Clemson students and two Clemson faculty, as well as Liz, spent numerous hours over a period of a few days counting cars entering and leaving various apartment complexes around the town of Clemson. The data collected assisted Liz in revising the ITE Parking Generation manual for apartments which primarily provide housing for students of a university or similar campus setting.
Variable Message Sign for Clemson Athletic Department – Fall 2012
During the Fall semester, the chapter continued its annual practice of setting up its variable message sign on behalf of the Clemson Athletics Department to help direct traffic during Clemson home football games. Katelyn Love – an undergraduate student member – and Kweku Brown – a graduate student member – were responsible for setting up and taking down the sign before and after the games. The sign directed football fans to the newly acquired campus location formerly known as Y-Beach, where they could pay to use a park-n-ride shuttle to the stadium throughout the day. The chapter received $200 per game. The funds generated helped to support other service activities carried out over the course of the year.
Clemson Parking Utilization Study – September 24-28, 2012
The Clemson ITE Chapter worked together with Clemson's Parking Services to complete a parking utilization study. Our participation involved collecting data from September 24-28. Pairs of students counted the number of empty parking spaces in various lots all over campus during the hours of 9-11 am each day.
Clemson Planning Bicycle Count – October 3, October 9, 2012
This year 11 ITE members took part in annual bike counts organized by Clemson University. Bike counts were organized as a part of the President's Commission on Sustainability Annual Report Card Objective "Increase bike riders and pedestrian traffic while reducing automobile traffic in the interior of campus". Students helped to collect the data about bicycling on campus. The volumes were counted during morning peak hours on work days in October.
Service and Community Involvement
Safety Campaign – "Stay Alive – Don't Text & Drive" – Spring Semester
In January 2012, the chapter began its road safety awareness campaign dubbed 'Stay Alive – Don't Text & Drive'. The chapter decided to launch this very important service project because, as aspiring transportation engineers and professionals, the safety of the road user is always our first priority. Raising awareness of the dangers of texting and driving would be one of the chapter's main contributions to help make our roadways safer. The campaign was mainly directed towards high school and college students. This target group was selected based on research findings which showed that this group had the highest distracted driving related crashes and fatalities in the state and the nation. The Chapter ordered 11,000 silicon rubber wristbands with the phrase "Stay Alive – Don't Text & Drive". Throughout the year, these wristbands have been distributed to students wherever there is a Clemson ITE chapter presence. The following are some of the official conferences and meetings that the chapter distributed wrist bands:
• SDITE Annual Conference 2012 (Lexington, KY)
• Transportation Research Board (TRB) Annual Meeting (Washington DC)
• ITE Student Reception (Washington DC)
• ASCE Carolina's Conference 2012 (Clemson, SC)
• Greenville middle schools driver simulator tour (Clemson, SC)
• STEM Day by the PEER WISE Program (Clemson, SC)
• Organizations fair (Clemson, SC)
Aside these official gatherings, chapter members have taken it upon themselves to casually spread the message by distributing wristbands to family and friends. Overall, the first year of our campaign has been successful with the distribution of about 3,000 wrist bands. We anticipate even better results this year as we look to increase our campaign efforts.
For more information on the safety campaign and the opportunity to support our cause to raise awareness on the dangers of texting while driving, please visit our website (http://www.clemsonITE.org/) and take a pledge not to text and drive.
Clemson Elementary School International Festival – March 3, 2012
On March 3, 2012, Clemson ITE Student Chapter members participated in the Clemson Elementary School's International Festival, sponsoring four tables (Bangladesh, Ghana, India and Ukraine). Each table had a poster showing the common modes of transportation in that country. Members sold samples of their countries native delicacies to raise money for the school's PTA. This is the seventh consecutive year that the Chapter has sponsored at least one table at this event. This year's festival is scheduled for March 2, 2013.
Habitat for Humanity Homecoming Build– November 2, 2012
In November 2012 members of our chapter had the opportunity to give back to our community by participating in Clemson Habitat for Humanity Homecoming Build. This year's project was aimed at helping a single mother of twins get a home of their own. Many of our members participated in this event by helping build roof trusses for the home built on Bowman Field during the week of homecoming. This year's project attracted many volunteers and the house was built faster than expected. ITE students were happy to be part of such a life-changing housing project.
PEER WISE Program's STEM Day – April 20, 2012
On April 20, 2012, Clemson ITE members participated in STEM Day presented by the PEER WISE Program. The program was coordinated by Dr. Ogle and Katerina Moreland, a past student chapter president and was aimed to attract high achieving underrepresented (women and minority) high school juniors to the STEM fields. When the participants visited the Glen Civil Engineering Department, the ITE students introduced them to the world of geocaching. First the mathematics behind GPS was explained and then put to the test as students were led in groups all across Clemson's campus to find hidden boxes full of treasures. The first team to return also won prizes. Throughout the day, Clemson ITE was able to share engineering knowledge and college advice to over 50 future college students. We also gave them our "Stay Alive – Don't Text and Drive" armbands and encouraged them to think before texting and driving!
Middle school driver simulator tour – May 26, 2012
The ITE chapter hosted middle school students from a number of Greenville County schools on May 26, 2012 as part of their annual tour of Clemson University. Drs. Ogle and Sarasua coordinated a driver simulator tour for the students. The tour began with a presentation about the dangers of distracted driving and the importance of wearing seatbelts and helmets. After the talk, a few students in each group had an opportunity to try out the simulator and were assigned tasks (replying a text, receiving a phone call) while driving. This was an eye-opening activity for both the students and he parents and underscored the effects of distracted driving on the driver's ability to react to situations on the roadway. Each student was given one of the chapter's safety campaign wrist bands as a souvenir hopefully serving as constant reminder of the dangers of distracted driving.
Social Activities
SCSITE 2012 Christmas Meeting – December 6, 2012
The Annual Christmas Meeting of the South Carolina Section of ITE was held at the Sheraton Hotel in downtown Columbia, SC. This was a good opportunity for student members to connect and reacquaint ourselves with transportation engineering professionals in the state. One undergraduate member of the Clemson ITE Student Chapter, Katelyn Love was presented the Stafford-Clark Scholarship at this meeting.