Graduate Studies in Civil Engineering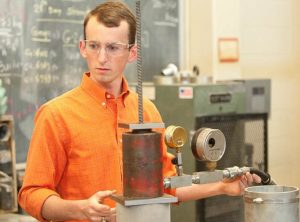 Welcome to the graduate program of the Glenn Department of Civil Engineering. Civil engineering is among the oldest disciplines at Clemson University, having been taught since the foundation of the University in 1889. Today, the Department is home to more than 350 undergraduate students, 120 graduate students, 25 faculty, and 10 staff.
We live in a world of ever-increasing societal challenges, with many of these challenges having a solution in the profession of civil engineering.  Our graduate program is focused on collaborative research aimed at solving the complex challenges of infrastructure and the built environment, and  emphasizes engineering practice and the advancement of engineering knowledge through research and coursework.  Graduate students can study in one of six program areas or pursue cross-disciplinary research within the Department of Civil Engineering, or across Departmental and College boundaries.  Our six major program areas are:
We offer two Masters of Science degrees in Civil Engineering (thesis and non-thesis options) and a Doctor of Philosophy degree in Civil Engineering.
Your opportunity to seize the future awaits!