Clemson Home > Home > Facilities > Laboratories


The Holcombe Laboratory

The Holcombe Laboratory contains a high-speed Sun SPARC computational server with 20 processors that is used for research on mobile spread-spectrum communication systems and networks. The workstations are equipped with communication system simulation packages that permit computer simulation of key elements of radio communication systems and networks. One software package is the Signal Processing Worksystem, a high-end simulation environment that enables the simulation of wireless communication links over a variety of channels in conjunction with a highly detailed specification of the transmitter and receiver hardware. Extensive use is made of OPNET for simulation of mobile, distributed, wireless communication networks. New simulations are being developed for direct-sequence spread spectrum networks with distributed protocols. The workstations are also equipped with C and FORTRAN compilers that are used for more specialized analysis and simulations of wireless communication subsystems and systems.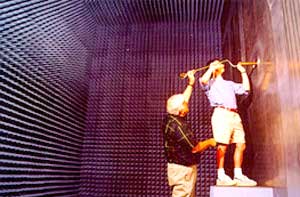 Experiments are being conducted in the newly constructed ground plane laboratory. As seen at left, Professor Butler is assisting a graduate research fellow in inserting a probe which is used to measure the current on an antenna. Notice the electromagnetic absorber on the surrounding walls.