Biomechanics, Ergonomics, Safety, and Training Lab
The BEST Lab at Clemson University broadly focuses on basic and applied research in biomechanics and physical ergonomics to enhance human health, performance, and safety in a variety of settings. Our focus areas include:
Human performance assessments (strength, motion, postures, and individual differences)
Biomechanics
Movement control and coordination
Motor learning and skills training
Work physiology and fatigue
Physical human-robot interaction
Recent News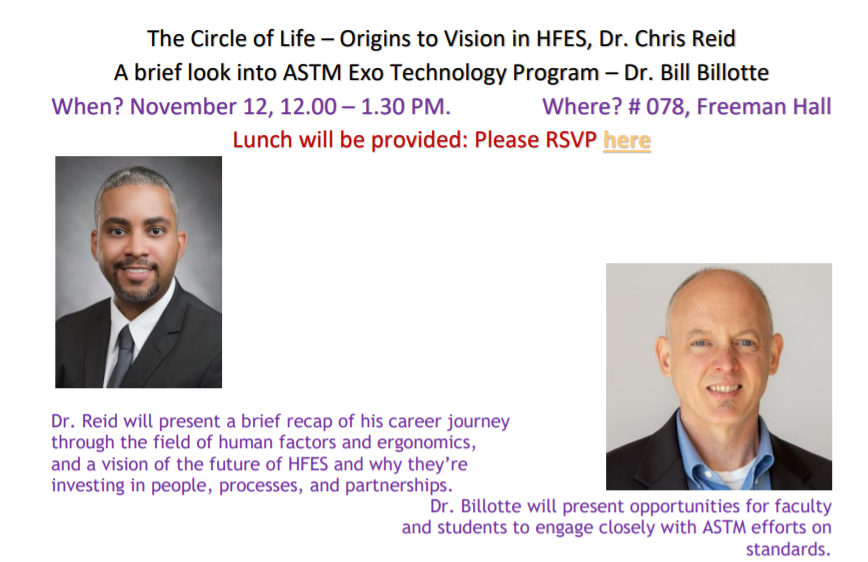 November 12, 2021
"Dr. Reid will present a brief recap of his career journey through the field of human factors and ergonomics, and a vision of the future of HFES and why they're investing in people, processes, and partnerships."
"Dr. Billotte will present opportunities for faculty and students to engage closely with ASTM efforts on standards."
Clemson students and faculty participate in an exoskeleton showcase
November 11, 2021
Members from the Biomechanics, Ergonomics, Safety and Training (BEST) lab, the Ergonomics and Computational Human Operations (ECHO) lab, and members of the HFES student organization at Clemson University participated in a specialized exoskeleton showcase* at the South Carolina Manufacturing Conference. The showcase consisted of five industry-focused exoskeleton companies demoing their devices for several manufacturing and industrial companies in South Carolina. This event presented a unique opportunity for industry partners to have hands-on experience with devices that could impact worker health and performance. Furthermore, this event brought together industry partners, exoskeleton companies, and the expertise of the BEST and ECHO labs to fortify the collaborative effort needed to propel the promising future of exoskeleton devices forward.
*The exoskeleton showcase was sponsored by the South Carolina Research Authority.