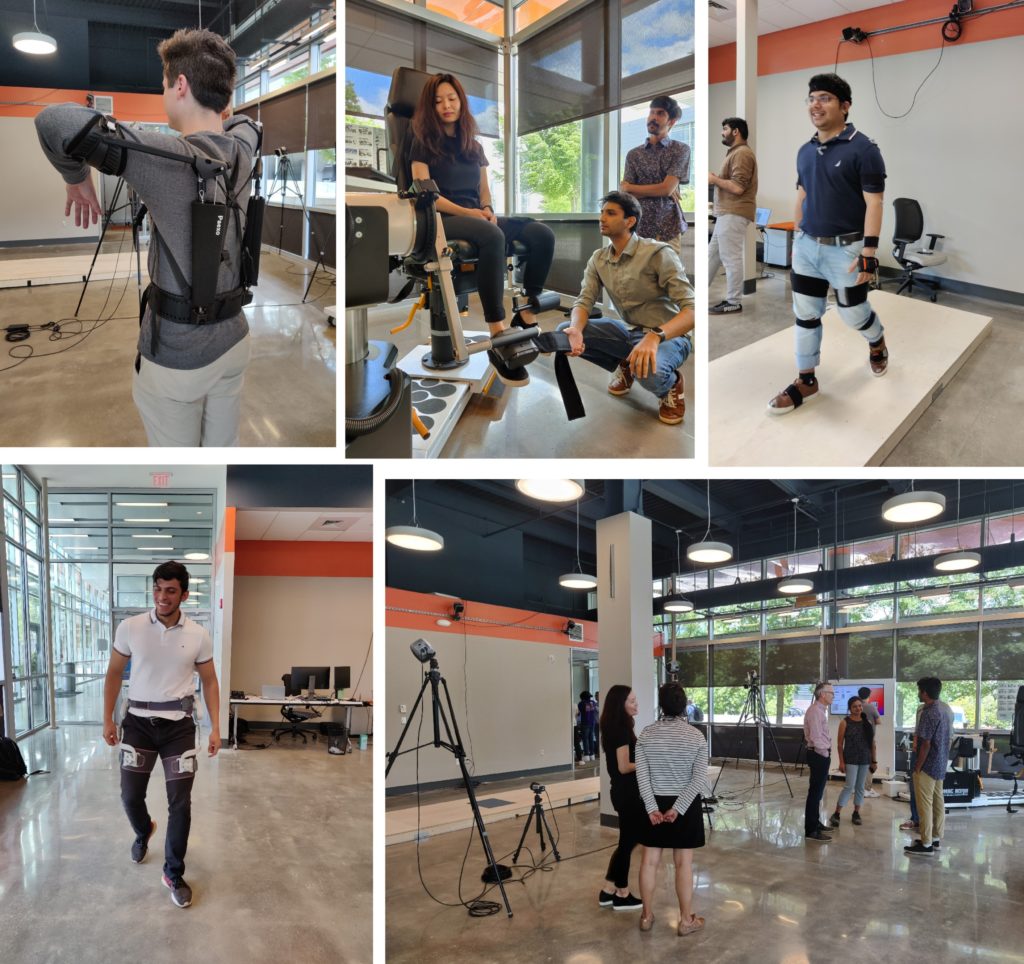 Dr. Srinivasan holds open house for new lab space at CU-ICAR
May 6, 2022
Dr. Srinivasan held an open house to showcase the new lab spaces that had been constructed at the CU-ICAR campus in Greenville. These lab spaces house equipment such as a motion capture system, force plates and walkways, an isokinetic testing and rehabilitation system, various exoskeletons, virtual reality devices, and systems that measure muscle activity and kinematics. The lab space and equipment will be used to collect data for a range of projects across disciplines in the Industrial Engineering field and others.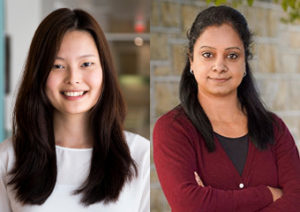 April 12, 2022
"Seed grants are mechanisms to fund pilot-level research which often forms the basis for successful larger proposals that are submitted to federal agencies such as the National Science Foundation (NSF) and National Institutes of Health (NIH)."
"Drs. Jackie Cha (Clemson University), Alfredo Carbonell (Prisma Health), Anjali Joseph (Clemson University), and Divya Srinivasan (Clemson University) were awarded a seed grant by the Prisma Health Sciences Center for "Investigating the Use of Exoskeletons for Reducing Musculoskeletal Injuries in Surgical Care Tasks". The study will investigate the feasibility and acceptance of the use of passive exoskeletons to reduce musculoskeletal symptoms and injuries for surgeons, nurses, and other surgical team members."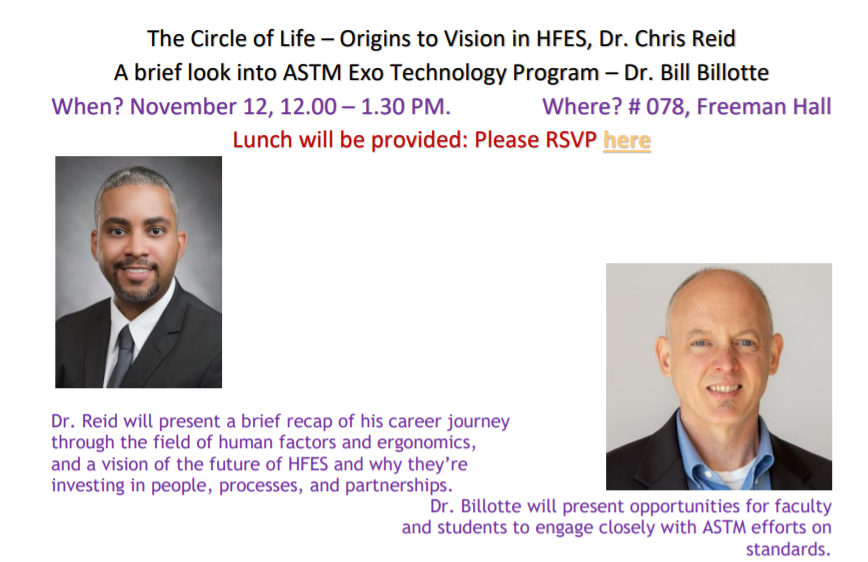 November 12, 2021
"Dr. Reid will present a brief recap of his career journey through the field of human factors and ergonomics, and a vision of the future of HFES and why they're investing in people, processes, and partnerships."
"Dr. Billotte will present opportunities for faculty and students to engage closely with ASTM efforts on standards."
Clemson students and faculty participate in an exoskeleton showcase
November 11, 2021
Members from the Biomechanics, Ergonomics, Safety and Training (BEST) lab, the Ergonomics and Computational Human Operations (ECHO) lab, and members of the HFES student organization at Clemson University participated in a specialized exoskeleton showcase* at the South Carolina Manufacturing Conference. The showcase consisted of five industry-focused exoskeleton companies demoing their devices for several manufacturing and industrial companies in South Carolina. This event presented a unique opportunity for industry partners to have hands-on experience with devices that could impact worker health and performance. Furthermore, this event brought together industry partners, exoskeleton companies, and the expertise of the BEST and ECHO labs to fortify the collaborative effort needed to propel the promising future of exoskeleton devices forward.
*The exoskeleton showcase was sponsored by the South Carolina Research Authority.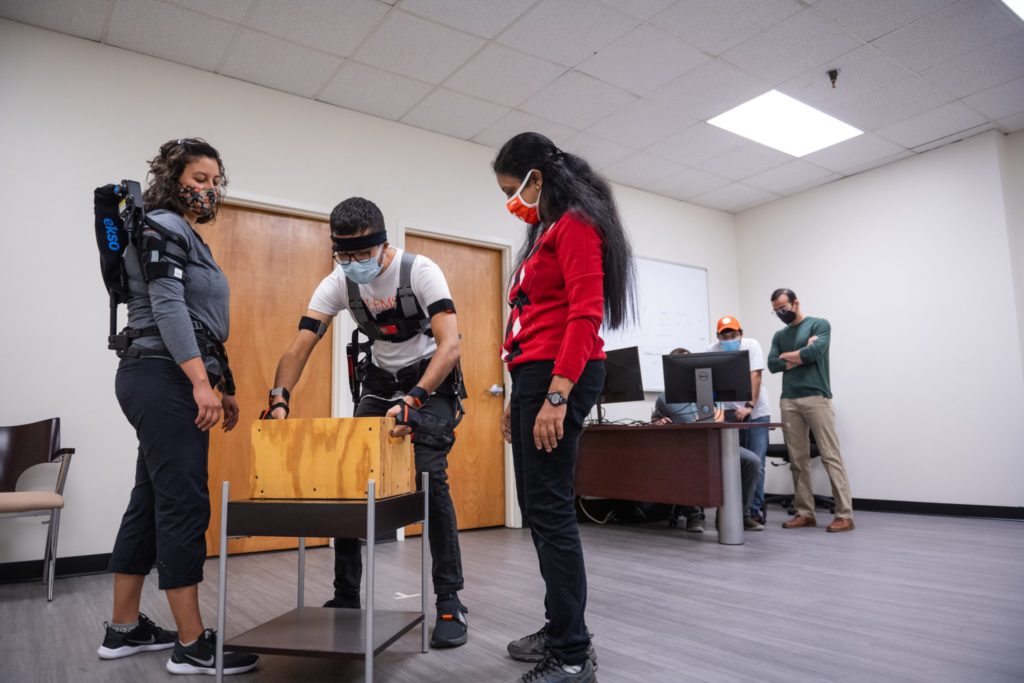 November 3, 2021
"Exoskeletons that prevent injuries such as strained backs and shoulders have been available for years but haven't flooded the workplace as once expected, and a group led by Clemson University industrial engineers would like to know why."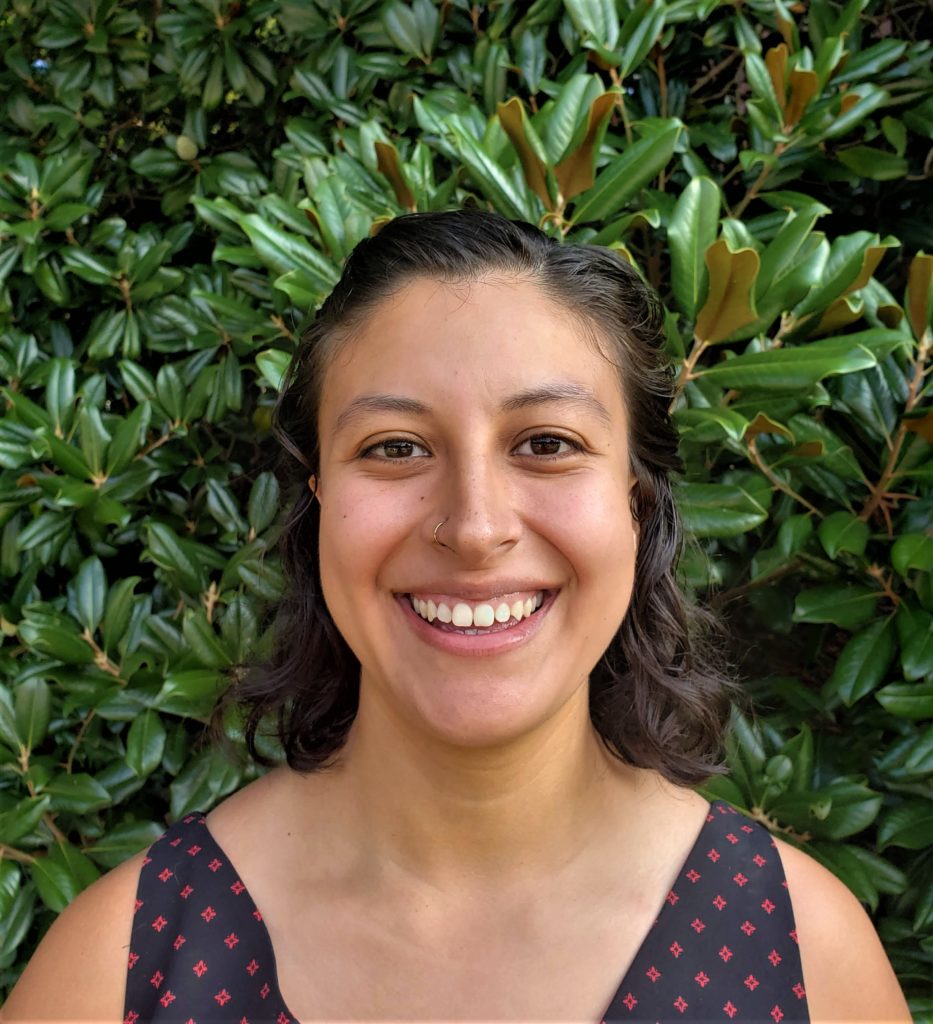 Dr. Jessica Avilés is the recipient of the inaugural NSF eFellows Engineering Postdoctoral Fellowship!
Awarded September 2021
The eFellows Fellowship targets early-career PhDs in engineering fields within university settings. This prestigious fellowship provides postdoctoral fellows with a competitive salary, travel stipends, professional development opportunities, and mentoring activities for two years. During her time as an eFellows Postdoctoral Fellow Jessica will focus her research efforts on investigating the effects of exoskeleton devices on rehabilitation outcomes for individuals with spinal cord injuries.
The eFellows program is administered by the American Society for Engineering Education (ASEE) with funding from the National Science Foundation (NSF).
August 12, 2021
"Adaptive and efficient movement patterns facilitate the maintenance of consistently high levels of performance across diverse environmental conditions and reduce risk for injury by allowing for increased capacity to explore alternative motor solutions. But how can these be effectively quantified?"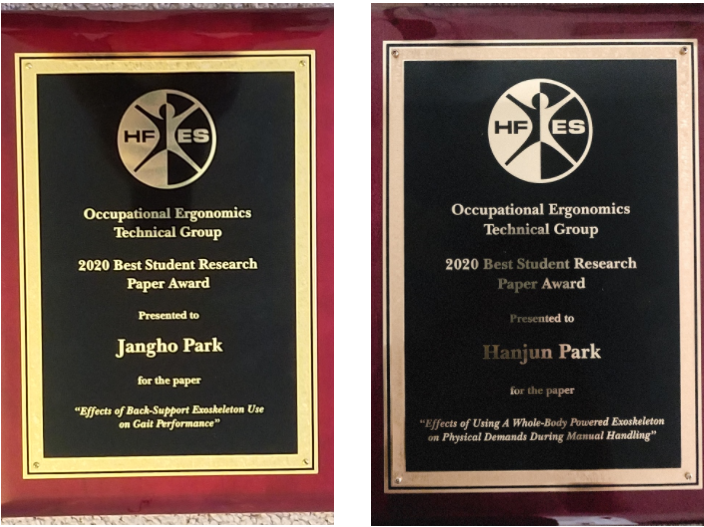 Two of our students, Jangho Park and Hanjun Park, were awarded the two best student paper awards from the Occupational Ergonomics Technical Group, at HFES Annual Meeting 2020.
Park, J. H., Lee, Y., Kim, S., Nussbaum, M. A., & Srinivasan, D. (2020, December). Effects of Back-Support Exoskeleton Use on Gait Performance. In Proceedings of the Human Factors and Ergonomics Society Annual Meeting (Vol. 64, No. 1, pp. 894-895). Sage CA: Los Angeles, CA: SAGE Publications.
Park, H., Kim, S., Lawton, W., Nussbaum, M. A., & Srinivasan, D. (2020, December). Effects of Using a Whole-Body Powered Exoskeleton on Physical Demands During Manual Handling. In Proceedings of the Human Factors and Ergonomics Society Annual Meeting (Vol. 64, No. 1, pp. 888-889). Sage CA: Los Angeles, CA: SAGE Publications.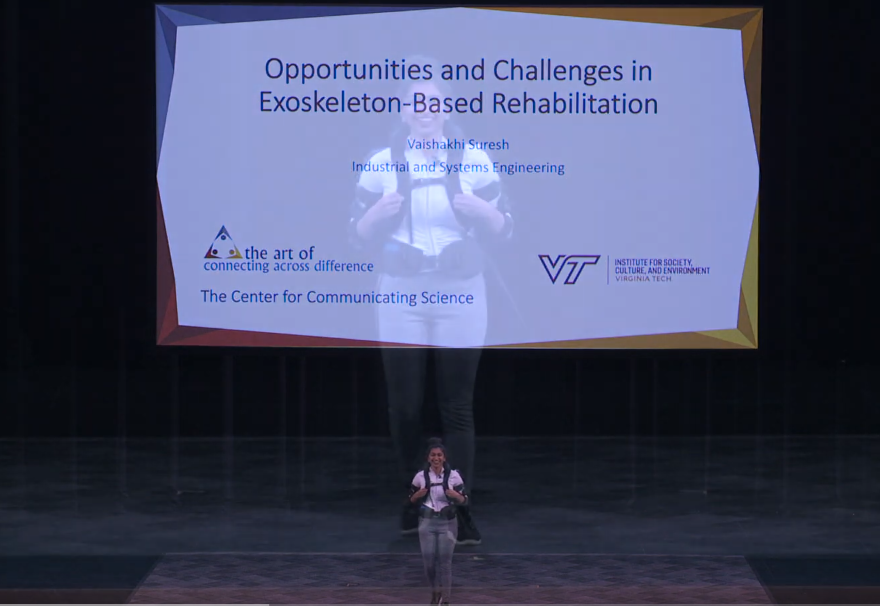 Vaishakhi Suresh, awarded first place at Virginia Tech's 4th annual Nutshell Games, for her talk: "Opportunities and Challenges in Exoskeleton-based Rehabilitation."
A video of her presentation can be accessed here: