By Paul Alongi, Clemson University
The Haugh family's latest support for Clemson is helping demystify leadership
Great leaders are built, not born. That's the central message behind Engineering Leadership, a nonprofit that Clemson University alumnus Doug Haugh has developed to demystify leadership and help create engineering leaders of the future.
Haugh knows something about the topic. He has built an influential career in the energy and technology industries and has held several leadership positions along the way since receiving his Bachelor of Science in chemical engineering from Clemson University.
"Engineering Leadership has a double meaning," Haugh said. "It's leadership from engineers, but it's also believing leadership can be engineered. It can be broken down into its constituent parts, just like we're trained to do in engineering."
The nonprofit is thoroughly infused with Clemson orange. A podcast hosted by Haugh features interviews with 17 C-suite executives, all alumni of Clemson's College of Engineering, Computing and Applied Sciences. Haugh has also recorded a video interview with the college's dean, Anand Gramopadhye.
A panel discussion at Clemson is planned for this fall, and Haugh is working with the college to introduce a course that would be offered through the undergraduate Creative Inquiry program.
"Doug and his wife, Athena, are devoted alumni and partners of the college who have generously given back to their alma mater for many years," Gramopadhye said. "I thank them and look forward to continuing our work to build leaders of the future. This will become a valuable resource not only for our students and faculty but for the broader engineering community."
It comes as no surprise that the Haughs have maintained such a strong connection to Clemson.
While they both grew up in the Charleston area, they didn't meet until arriving on campus, and both have credited the University with helping position them for success after graduation.
Doug, who graduated magna cum laude in 1994, now serves as president of Parkland USA, an independent marketer of fuel and petroleum products.
Athena received her Bachelor of Science in mechanical engineering in 1993 and then went to work for Tennessee Valley Authority. She later went on to a 23-year career in technical sales with Exxon Mobil, a position that gave her the opportunity to travel the world.
She left the company last year to focus on the couple's children, Asa, 14, and Gavin, 12. The Haugh family now resides in Charleston.
Doug said he first became interested in leadership while serving as president of Pi Kappa Alpha fraternity. It was his first major leadership position, one that put him in charge of a budget and "120 of his closest friends."
Engineering Leadership has a double meaning. It's leadership from engineers, but it's also believing leadership can be engineered. It can be broken down into its constituent parts, just like we're trained to do in engineering.
Doug Haugh, BS Chemical Engineering '96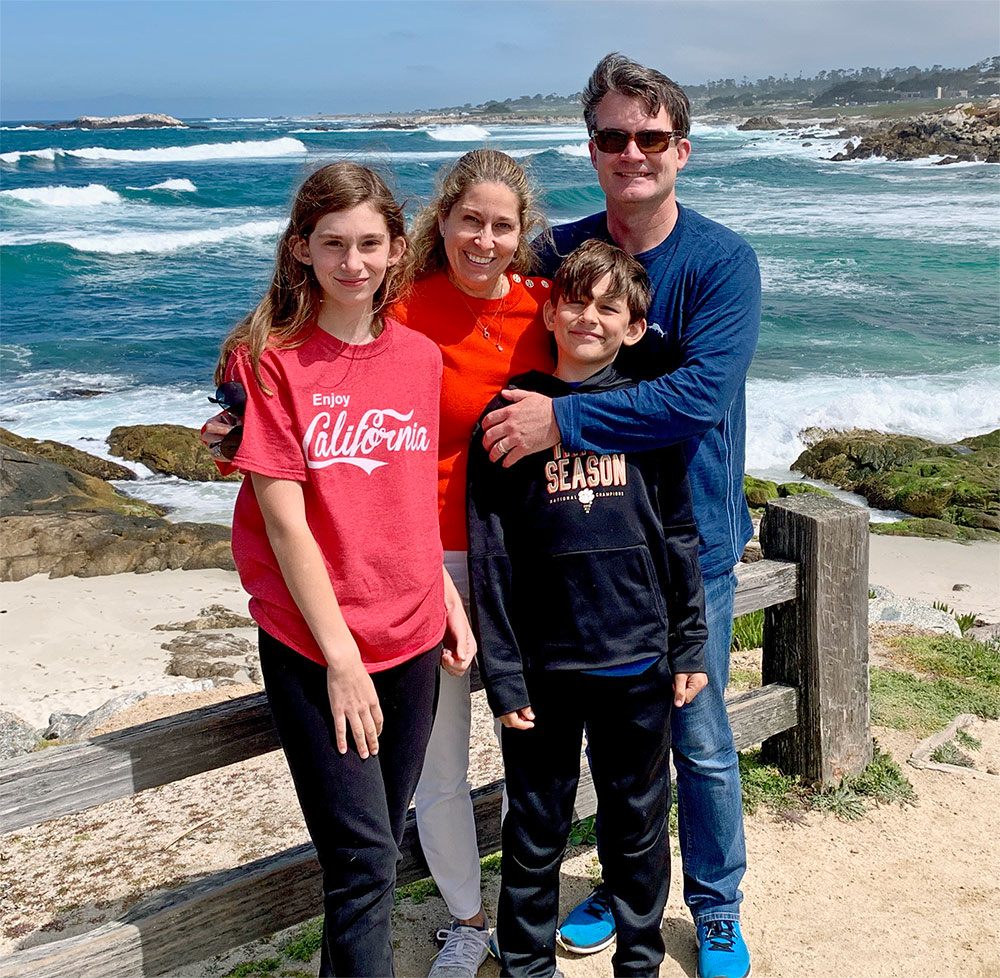 Doug and Athena Haugh carry the Clemson spirit with them wherever they go. They are pictured here with their children, Asa (far left) and Gavin (second from right).
"I was a turnaround president," he said. "We had very, very difficult decisions to live with as a group. Having the opportunity to help the group through that and successfully come out the other side with a viable future for the organization felt more important than anything I could do individually."
Athena said choosing Clemson was one of the best things she's ever done, outside of marrying her husband
"It was a family-oriented place to go to school, and there was a lot of opportunity to grow and expand," she said. "I would definitely say they did a great job of caring for the whole student."
For more than 20 years, the Haughs have given back to their alma mater, generously offering both time and treasure. Their gifts include an endowed scholarship and Doug's service on the professional advisory board of the Department of Chemical and Biomolecular Engineering.
"It was really cool to get back with my old professors and be in the room with them in a different capacity and try to help out," Doug said of his advisory board service. "It was a chance to connect with other alumni from the department and see what my old professors have been up to in terms of research. It was a great way to get back engaged."
It's also how he met Gramopadhye, which led to the Engineering Leadership collaboration.
The curriculum rests on 17 "constants" for leadership, including five at its heart: optimism, trust, courage, humility and love. The materials include video interviews, podcasts, free assessments and a book aimed at helping engineers advance their leadership skills, regardless of their stage of life.
All materials except the book are free. The nonprofit has pledged to direct proceeds to professorships and college course curriculums that help prepare students for leadership success.
Doug's own success has been recognized with several awards over the years, but he said his most satisfying accomplishment has been seeing young leaders he has mentored help shape industry.
"Who knows what these folks will accomplish long-term?" he asked. "Our industry is going to change more in the next 10-15 years than it has probably changed in the last 100. We've had a chance to shape and develop a lot of the people who are out there running businesses, and that's a very exciting thing to see."
With Engineering Leadership, a new crop of students could soon have the same opportunity. 
You can find Engineering Leadership's podcasts on its website, Apple Podcasts, Spotify and Google Podcasts.