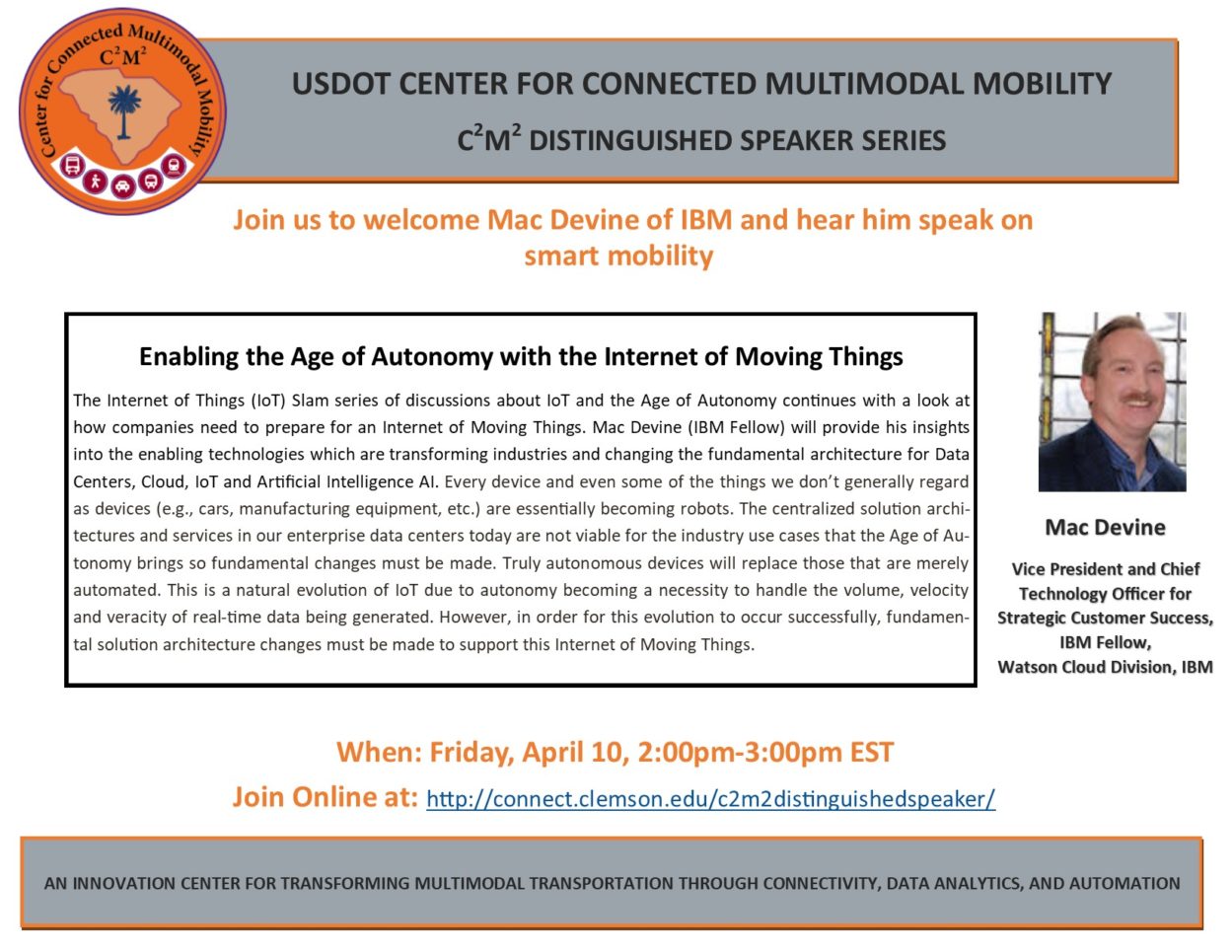 C2M2 invites you to join us in welcoming Mac Devine as a part of our C2M2 Distinguished Speaker Series. In 2016, Mac was appointed as an IBM Fellow which is IBM's highest technical honor. This appointment recognized Mac's many contributions to Innovation during his role as the Vice President and Chief Technology Officer (CTO) of Advanced Innovation for the IBM Cloud Division established in January 2015. Mac currently serves as the Vice President and CTO for the strategic Customer Success of the IBM Cloud Division. In this role, Mac drives strategic Cognitive Cloud solutions across Industry verticals, University Collaborations and with IBM's most strategic partners and customers.
Mac also serves on the faculty of the Cloud Computing Expo, Things Expo and an Advisory Board Member for the IoT LinkedIn Community.
Mac is a 1988 Clemson University graduate with a Master of Science degree in Mathematical Sciences and now serves as its IBM Executive Sponsor. Mac is also the IBM Executive Sponsor for MIT.
Seminar Title: Enabling the Age of Autonomy with the Internet of Moving Things
Seminar Abstract
The Internet of Things (IoT Slam) series of discussions about IoT and the Age of Autonomy continues with a look at how companies need to prepare for an Internet of Moving Things. Mac Devine (IBM Fellow) will provide his insights into the enabling technologies which are transforming industries and changing the fundamental architecture for Data Centers, Cloud, IoT and Artificial Intelligence (AI). Every device and even some of the things we don't generally regard as devices (e.g. cars, manufacturing equipment, etc.) are essentially becoming robots. The centralized solution architectures and services in our enterprise data centers today are not viable for the industry use cases that the Age of Autonomy brings so fundamental changes must be made. Truly autonomous devices will replace those that are merely automated. This is a natural evolution of IoT due to autonomy becoming a necessity to handle the volume, velocity and veracity of real-time data being generated. However, in order for this evolution to occur successfully, fundamental solution architecture changes must be made to support this Internet of Moving Things.