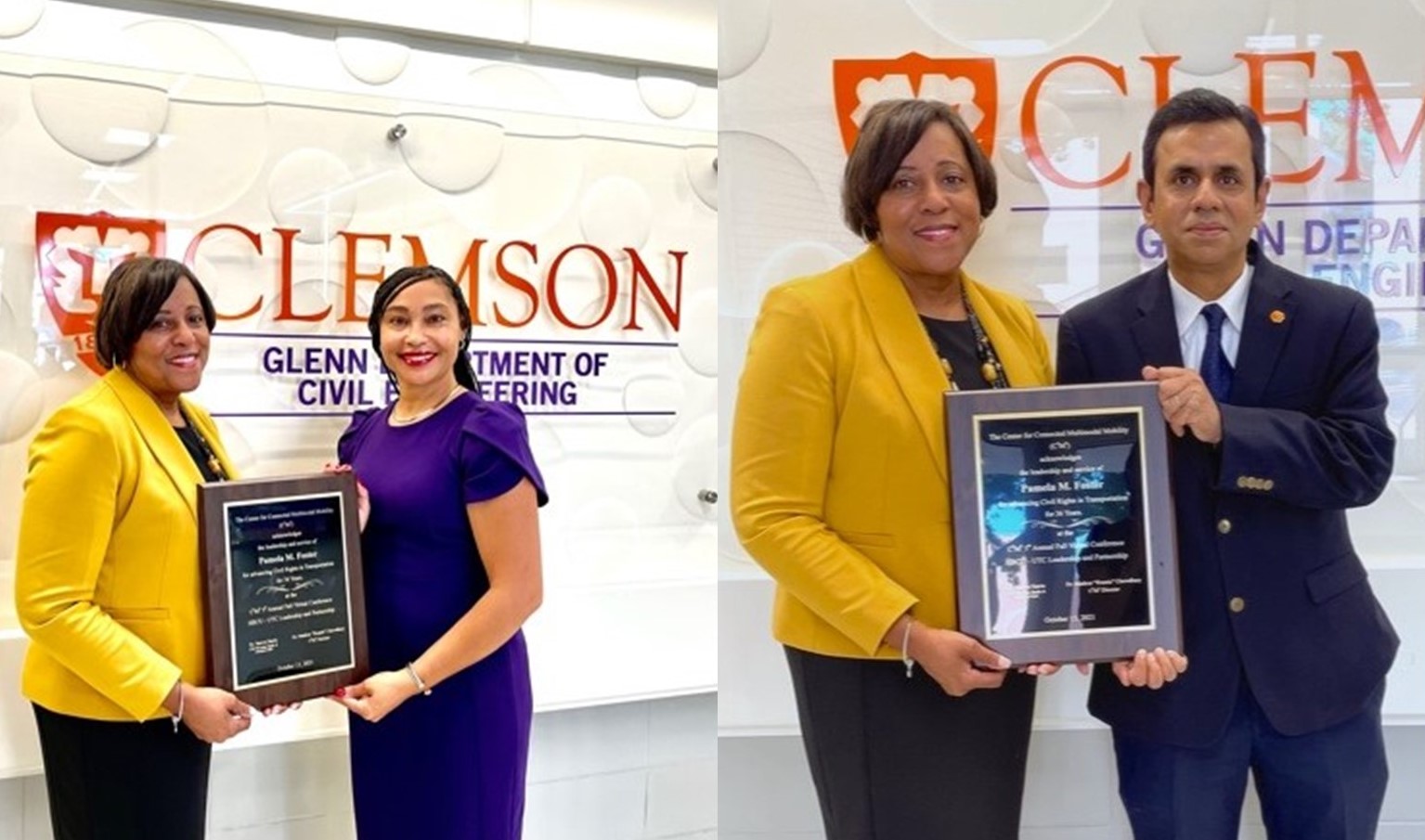 Dr. Mashrur "Ronnie" Chowdhury, Eugene Douglas Mays Chair in Transportation, Clemson University, and C2M2 Director, along with Dr. Vareva Harris, Assistant Vice President of Enrollment, Benedict College, and our  C2M2 Diversity, Equity, and Inclusion Committee Chair, presented Ms. Pamela Foster, with a Lifetime Achievement Award for her 36 years spent advocating for civil rights in transportation. Ms. Foster received this award in person at Clemson University as part of the morning session of our C2M2 5th Annual Fall Conference.

During her 36 year career in government service, Ms. Foster was instrumental in starting the National Summer Transportation Institute Program at SCSU; the Southern Transportation Civil Right Executive Council  (representing and supporting eight southeastern state civil rights directors) where she served as Federal Highway Administration (FHWA) Advisor for the past 25 years and planned Civil Rights Symposiums and developed learning essentials for advancing civil rights in transportation programs on a national level; and the Regional Entrepreneurial Development Institute for small and disadvantaged businesses now still being deployed in various states across the country
 
Ms. Foster teaches civil rights courses for State DOTs and other transportation agencies and is a highly sought-after instructor in the areas of Title VI, DBE, Equal Opportunity, and Contractor Compliance Programs.  She has authored and served as Subject Matter Expert for the Disadvantaged Business Enterprises (DBE) Certification Course now officially endorsed by FHWA for training State DOT certification analysts and FHWA Specialists nationally that are responsible for implementing federal DBE certification regulations under 49 CFR Part 26.
C2M2 congratulates Ms. Foster on receipt of this award and looks forward to working with her in the future.